Touring the GC laboratories
February 22rd 2023 | AGas Cromatography (GC) laboratory tour was held by the GC technicians erfagroup, a team of knowledgeable technicians and advisors from the Department of Ecoscience and Department of Agroecology at Aarhus University, Copenhagen University, and Danish Technological Institute. 
---
Members of the group have extensive experience using the gas chromatography method to analyze greenhouse gases from aquatic and agricultural sources. The group exchanged information on process optimization, best practices, and quality assurance in relation to greenhouse gas analysis while touring three labs (AU ecoscience, AU agroecology, and DTI). Guided tours of other lab facilities at AU and DTI were also part of the program. Asger Schmidt, consultant at DTI also discussed a very efficient experimental design methodology which has huge potential to used in planning of GC optimization experiments. The event helped in establishing a strong cooperation amongst researchers, technicians and consultants working in the area of greenhouse gas measurement and monitoring. Coordination of the erfa group activities is carried out by Drishya Nair, consultant at TI.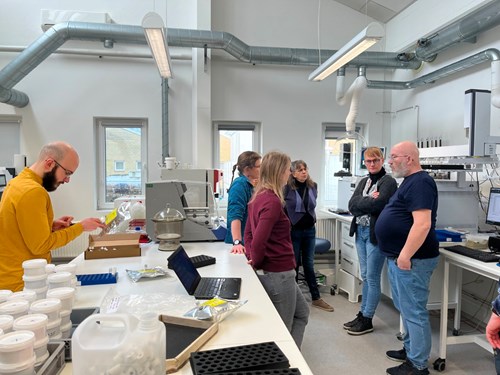 Below is a list of members who participated in the event-
Bodil Stensgaard- AU, Agroecology
Tanja Quottrup Egholm- AU, Agroecology
Barbara Thornberg- AU, Agroecology
Drishya Nair-DTI
Kim Lolck Burnæs- DTI
Asger Smidt-Jensen-DTI
Dennis Hansen- AU, ecoscience
Dorte Nedergaard- AU, ecoscience
Jannie Margrethe Jessen- KU